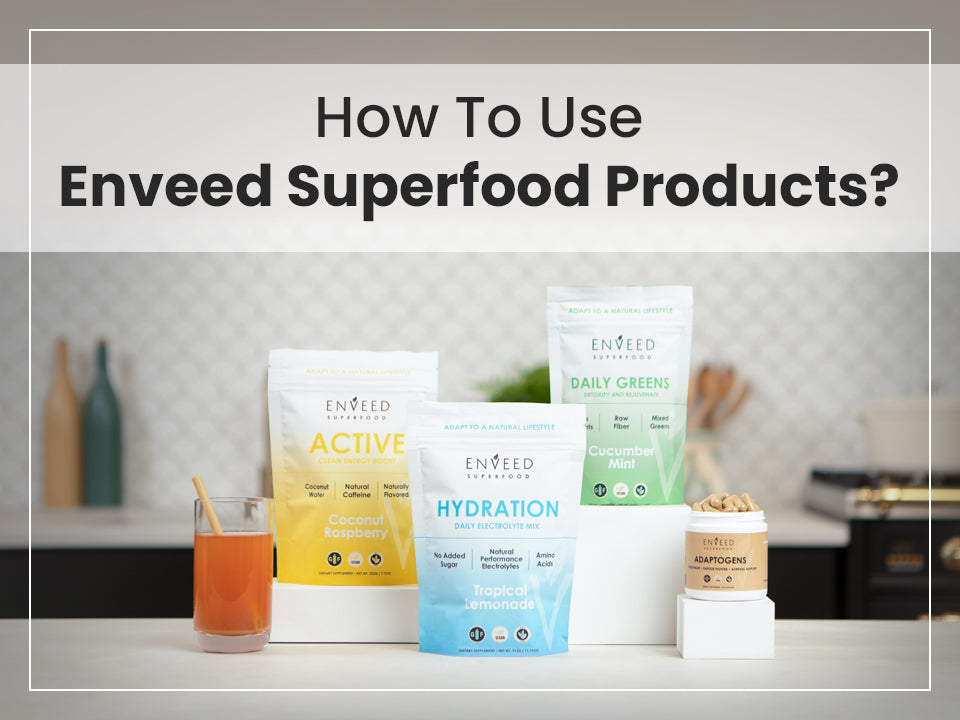 How To Use Enveed Superfood Products?
Enveed Superfood creates powerful nutritional supplements that help to support overall health and well-being. Enveed Superfood is quickly becoming the go-to place for health-conscious individuals looking to maximize their nutrition and workouts. Packed with essential vitamins, minerals, and antioxidants, Enveed's products offer a range of health benefits, from increased energy levels to improved well-being. But how do you use them? Here we explain how to use Enveed Superfood's products so that you can get the most out of your daily dose!
How To Use Hydration Superfood
Replenish your body with Hydration, an ocean-derived electrolyte mix that supports recovery. Unlike other conventional sports drinks, this one is sugar-free and contains essential minerals, electrolytes, and amino acids to keep you hydrated all day, especially after physical activity. With a refreshing tropical lemonade flavor, it's time to replenish like never before!
Scoop:

Every single 16g scoop of our product is packed with muscle-enhancing amino acids, including

BCAAs

and glutamine, to combat cramping and soreness.
Mix:

For an electrolyte-packed drink,

simply add a scoop of the mix to 6 to 8 ounces of water or your favorite juice or smoothie. Since we only use real ingredients here, a bit of settling may occur, but don't worry! You'll still get the same burst of hydration with every sip.
Enjoy: The key to success is to consume one serving each day for an optimal outcome. This complete post-workout powder helps with hydration, improved performance, and faster recovery, so you can stay ahead of the competition!
How To Use Daily Greens Superfood
Daily Greens is an excellent source of essential vitamins and antioxidants that can help boost your overall health. It's a nutrient-rich blend composed of organic mixed greens, algae, raw fiber, and adaptogen extracts meant to bring balance back into your life. This precisely balanced mix also assists with digestion, provides anti-aging benefits, encourages detoxification naturally, and enhances immune system functioning.
Scoop:

Each 8g scoop of this incredible mix contains an assortment of 22 organic greens and vegetables to boost your immune system, aid digestion, and keep blood flowing.
Mix:

Add a scoop to 6–8 ounces of water or an invigorating smoothie for a burst of natural energy. Please remember that Daily Greens contains only genuine ingredients, so slight sedimentation may occur.
Enjoy: Make sure you drink one serving of this potent blend daily for optimal results! The perfect combination supports health, anti-aging, energy, and focus.
How To Use Active Superfood
Unleash your full potential and keep going with Active, a powerful plant-based pre-workout that provides long-lasting energy, hydration, and improved performance. Unlike many similar products, Active delivers up to five hours of energy thanks to its unique blend of patented components, three natural sources of caffeine, and essential electrolytes. Dare to push past boundaries — Active lets you take on any challenge the day throws at you!
Scoop:

Each 11g serving is filled with adaptogens, antioxidants, and naturally sourced caffeine derived from vegan-friendly, gluten-free sources like green tea, yerba mate, and green coffee. 
Mix:

For a burst of natural energy, mix a scoop of Active with 6–8 ounces of water or your favorite smoothie or juice. Note: Some settling may naturally occur because it's formulated with all-natural ingredients.
Enjoy:

To experience the best results, consume one serving of this drink mix before a workout. This naturally sweetened beverage provides a clean energy boost that will last throughout your day!
How To Use Adaptogen Superfood
Our Adaptogens blend is an effective combination of healing herbs and mushrooms designed to restore balance and alleviate mental, physical, and emotional stress. This remarkable formula will bring the body back into balance thanks to its adaptogenic properties that help regulate hormones and provide adrenal support to enhance your mood. 
The unique blend of mushrooms, adaptogens, herbs, and roots in Adaptogens also offers powerful anti-inflammatory and antioxidant benefits that are essential for preserving the well-being of your body's tissues and joints.
30-Day Supply:

Power up and fight stress with each adaptogen capsule packed full of powerful immunity-supporting and liver-protecting nutrients like ashwagandha, maca root, and cordyceps.
Take Daily:

Searching for some daily stress relief? Take two of our easy-to-swallow capsules with a glass of water to make sure you're getting the most out of your mood support.
High Standards:

Produced in the USA, these non-GMO, vegan, and gluten-free supplements are handcrafted in a certified GMP facility.
Read More: Why Should You Take Enveed Superfood Every Single Day?
Get Creative With Enveed Superfood
You might already know about the amazing benefits of incorporating superfoods into your diet and how to use them, but you may need to learn that there are tons of ways to get creative with them! Enveed Superfood is a great source of high-quality, nutrient-rich ingredients that can be used to make delicious and healthy snacks and meals. Let's take a look at five creative ways to use Enveed Superfood in your recipes. 
Smoothies:

One of the easiest (and tastiest) ways to incorporate superfoods into your diet is by adding them to smoothies. Use fruits, vegetables, and other ingredients like nut butter and plant milk as a base, then add some of your favorite Enveed Superfoods for added nutrition and texture. This is an easy way to get all the essential vitamins and minerals you need without sacrificing taste or texture! 
Overnight Oats:

Another great way to enjoy Enveed's superfoods is by making overnight oats. Start by combining old-fashioned oats with almond milk or coconut yogurt in a bowl or jar. Add any desired sweeteners (such as honey or maple syrup) and mix everything until combined. Then stir in some of your favorite Enveed Superfoods, cover the bowl or jar with plastic wrap, and store it in the refrigerator overnight. In the morning, you will have a delicious breakfast that's packed full of nutrients! 
Salads:

Salads are always a great option when it comes to incorporating more nutritious foods into your diet. Create a bed of greens with fresh vegetables like cucumber slices, cherry tomatoes, bell peppers, carrots, etc., then top it off with some protein-rich toppings like grilled chicken or salmon fillets. Finally, sprinkle on some Enveed Superfoods for even more flavor and nutrition! 
Energy Balls & Bites:

Energy balls and bites are another tasty way to enjoy Enveed Superfoods. Start by combining nut butter (almond butter works great), honey (or agave nectar), dates (or dried fruit), rolled oats (or quinoa flakes), nuts & seeds (like pumpkin seeds & sunflower seeds), coconut flakes/shavings, cocoa powder/cacao nibs/chocolate chips (optional). Stir everything together until combined, then roll into bite-sized balls or bars before storing in the fridge for up to one week. For extra flavor & nutrition, add some of your favorite Enveed Superfood powders for an extra boost! 
Baked Goods:

Finally, don't forget about baked goods! Whether you're making muffins, cakes, cookies, or brownies, adding superfood powders from Enveed can take their nutritional value up a notch! Simply add some of your favorite powders when making batter for any type of baked good for an extra boost of flavor & nutrition!   
The Bottom Line
By taking advantage of these creative ways to use Enveed Superfoods, you can easily get the nutrition you need in any form you like. So why not give it a try? Your body will thank you! 
Remember, when it comes to getting the most out of your superfoods, Enveed Superfood is the best choice. So don't hesitate! Get creative and start enjoying all the health benefits today! 

Enveed Superfood products help you adapt to a natural lifestyle. We know everything about our superfoods, from seed to packaging, and are involved every step of the way. For questions and inquiries, don't hesitate to contact us at support@enveedsuperfoods.com.