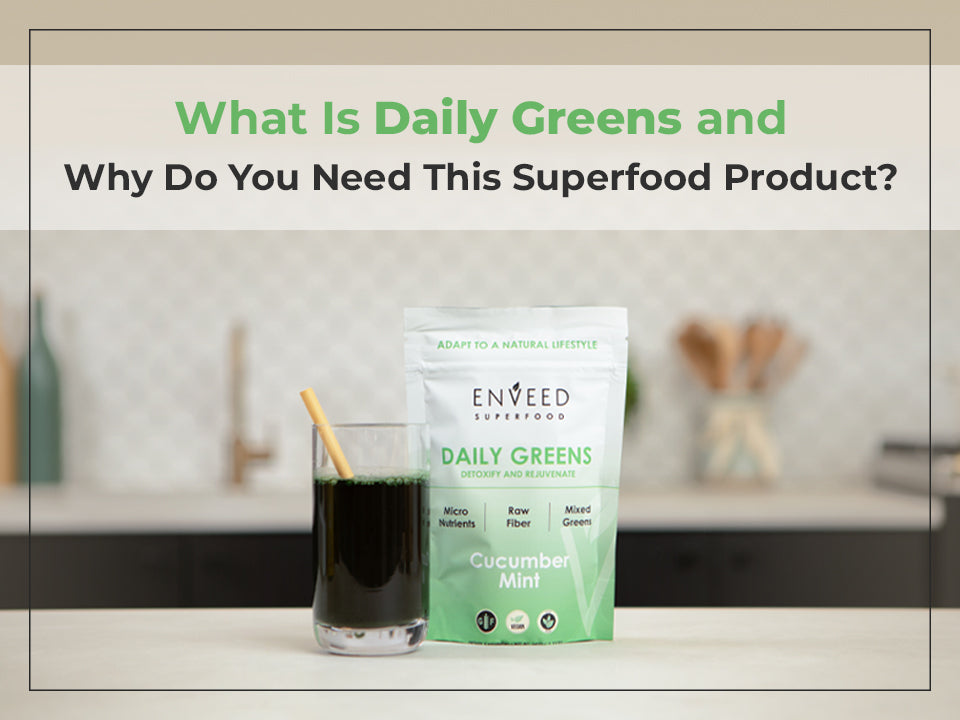 What Is Daily Greens and Why Do You Need This Superfood Product?
Daily Greens is a superfood blend designed to give you the nutrients, vitamins, and antioxidants your body needs on a daily basis. It's made up of nutrient-dense organic mixed greens, algae, organic raw fiber, and a blend of adaptogens. This combination helps improve your body's overall health and aids in digestion, anti-aging, natural detoxification, and immunity. Get ready to feel energized and enjoy Daily Greens' amazing benefits with Enveed Superfood! Keep on reading to learn more about this amazing product. 
Why Are Superfood Powders Trending?
It's becoming increasingly common in our fast-paced world for people to turn to convenient solutions when it comes to food. This includes fast food and ready-made or highly processed products with little nutritional content. Unfortunately, most individuals need to consume the necessary amount of fruit and vegetables every day. Therefore, they need to take advantage of all the natural vitamins and minerals our bodies need to stay healthy.
This is why it's of the utmost importance that individuals get their essential vitamins and minerals from other sources. This is where daily supplements can be useful. Green superfood powders are optimal for those looking for a convenient way to stay healthy and keep their body nourished! They're known to provide all the necessary vitamins and minerals without the extra effort required!
Enveed Superfood's Daily Greens
Daily Greens is a powerhouse of essential vitamins and antioxidants designed to boost your body's health. This nutrient-packed powder consists of a blend of organic mixed greens, algae, raw fiber, and adaptogens that work together to create balance for the day ahead. Not only does this potent combination assist with digestion, but it also helps slow down aging while naturally detoxifying the body and boosting immunity, truly making Daily Greens an indispensable part of any healthy lifestyle!
What's in Daily Greens?
Daily Greens includes several powerful ingredients to help bring balance to your day. It combines dark leafy greens like spirulina and chlorella for maximum nutrition with raw fiber, which improves digestion.

But Daily Greens is more than just greens — it also contains a fantastic combination of adaptogens that are proven to enhance your mood, reduce stress, and promote healthy blood flow. Blended with the world's most concentrated KSM-66 ashwagandha extract, immunity-boosting reishi mushroom, and maca root for improved circulation, this mix will help you power through your day without fatigue! All these combined makes for a powerful daily supplement designed to boost your energy levels and general well-being so you can confidently take on the day.
Why Should You Use Daily Greens?
Enveed's Daily Greens is the perfect way for health-conscious individuals to get their daily dose of greens. This 100% natural blend packs a powerful nutrient punch with all its vitamins and antioxidants.
Enveed Superfood produces all its products in a certified GMP, eco-friendly facility without exposure to adverse chemicals, fillers, synthetic stimulants, colorants, and flavorings. We stick to how nature does it, allowing our superfood blends to maintain all their essential nutrients for maximum health benefits. 
Adding Daily Greens to your diet ensures that you're giving your body all the necessary vitamins and minerals it needs in a quick, convenient, and tasty way. No more worrying about missing out on any important nutrients! 
Benefits of Taking Daily Greens Every Day
Most mixed greens powders contain similar ingredients as ours. However, we've formulated an amazing, delicious, and well-rounded product that goes beyond basic nutrition. Our Daily Greens blend offers the following health benefits when taken daily.  
Nurtures Your Mind & Body
Our Daily Greens superfood offers a great-tasting, daily dose of rejuvenating plant-based antioxidants and adaptogens to help you live a natural lifestyle. Age-old practices meet modern nutrition to help you feel healthy, strong, and calm throughout the day.
Boosts Your Immune System
Strengthen your immunity and promote digestive health with this drink mix. Immunity-boosting ingredients such as reishi mushroom, moringa leaf, and wheatgrass are highly valued for their nutrient-rich properties. Reishi mushroom contains polysaccharides, triterpenes, and other compounds that have been shown to have immune-boosting and anti-inflammatory effects. Moringa leaf is rich in antioxidants, vitamins, and minerals and is believed to have the potential to enhance the body's ability to fight off infections. Wheatgrass is high in vitamins A, C, and E, as well as antioxidants and other phytochemicals that may help strengthen the immune system. These ingredients are commonly consumed in supplement form but can also be found in various healthy food and beverage products.
Improves Your Digestion
In addition to providing a comprehensive blend of vitamins and minerals, the Daily Greens product from Enveed Superfood also boasts a high fiber content. This is essential for maintaining a healthy digestive system, as fiber helps to regulate bowel movements and prevent constipation. With 5g of fiber per serving, this product is an excellent choice for anyone looking to increase their fiber intake. Plus, all of the ingredients used in the product can be viewed on the Enveed Superfood website, ensuring that you are getting only the best, high-quality ingredients. So, if you're looking for a convenient way to boost your fiber intake and support your digestive health, look no further than Enveed Superfood's Daily Greens.
Transform Your Life for the Better
Rejuvenate your entire body with an alkalizing Daily Greens blend that promotes anti-aging and improves energy, clarity, and focus. With its 22 ingredients working in harmony, you will experience what it's like to have your body working at 100%. It feels good to feel good!
Purely Natural
It's great that the product is made with all-natural ingredients and does not contain any synthetic ingredients, colorants, artificial flavors, or sweeteners. Natural flavors, such as cucumber and peppermint, along with sweeteners like stevia leaf, can help to provide a more natural taste and experience.
Read More: Daily Green: How Plant-Based Supplement Leads You Towards A Healthy Lifestyle.
Enveed's Promise
At Enveed Superfood, we're committed to delivering superior products with outstanding service. That's why we offer a 100% satisfaction guarantee for all of our customers. We take great pride in ensuring that you have the best experience possible with us and are confident in every purchase made from our store. If, for any reason, you still need more, let us know, and we'll do whatever it takes to make sure your shopping experience is exceptional!
Created with the utmost care in the USA, this beverage mix is non-GMO and vegan-friendly, not to mention gluten-free. Plus, it's crafted without any exposure to dangerous chemicals or unnecessary fillers. You can trust that Mother Nature does her best work here!
How Can You Use Daily Greens?
Daily Greens can be added to several drink or food items! Its mild flavor makes it versatile enough that it won't overpower other flavors in your meal or beverages. The most common way to use Daily Greens is by mixing a serving of the powder into water, juice, smoothie, or milk of choice. For safety purposes, we highly recommend that you refrigerate any beverage prepared with green powders if you don't consume them immediately after preparation. There are so many ways you can use this superfood blend to get all the essential nutrients your body needs every day! 
Mix them into a homemade salad dressing.

Add them to scrambled eggs or an omelet.

Sprinkle them over roasted vegetables.

Add them to a soup.

Stir them into a vegetable dip.
Although heating Daily Greens can diminish the potency of some of its ingredients, you don't have to worry about it if you're adding fruit and vegetables to your diet regularly. This nourishing supplement is also great for going on vacation, which is when eating right can get a little trickier!
Is Daily Greens a Replacement for Eating Fruit and Vegetables?
Although this superfood blend does offer a ton of micronutrients, vitamins, and minerals that contribute to your overall health, it should not be seen as a direct substitute for fresh fruit and veggies. Daily Greens can provide all the basics of nutrition each day, yet to ensure long-term health benefits; it's also essential to include fruit and vegetables in your diet.
Although relying solely on Daily Greens for your daily nutrients may be tempting, remember that supplement powders are best used as part of an overall healthy diet. Think of using Daily Greens as the ultimate nutrition insurance — you gain essential micronutrients and vitamins from it, but it should not replace proper meals with a balanced nutritional profile. Make sure to practice good eating habits and supplement with Daily Greens!
The Bottom Line
Overall, Daily Greens superfood is a great way to get all the essential vitamins and minerals your body needs without having to worry about missing out on anything important! By adding this nutrient-dense superfood blend into your daily routine, you will be able to reap the benefits of improved digestion, natural detoxification, enhanced immunity, and improved mood! Whether added to drinks or meals, there are so many ways you can incorporate Daily Greens into your life. Try it today!
Enveed superfood products help you adapt to a natural lifestyle. We know everything about our superfoods, from seed to packaging, and are involved every step of the way. For questions and inquiries, don't hesitate to contact us at support@enveedsuperfoods.com.