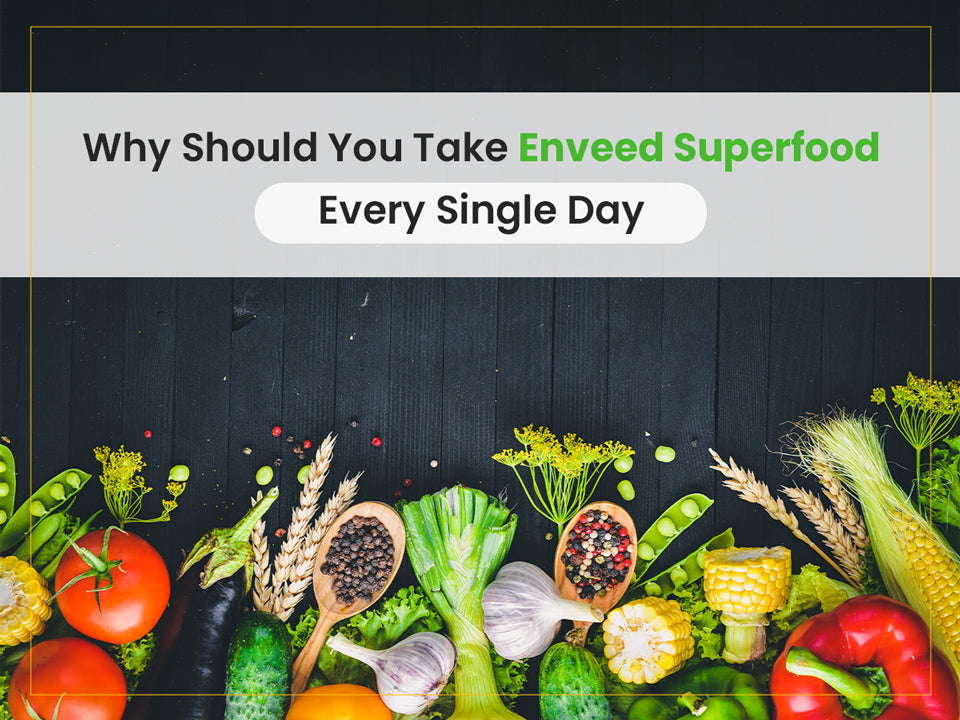 Why Should You Take Enveed Superfood Every Single Day?
Eating a nutritious diet rich in vitamins, minerals, and antioxidants is one of the most important parts of a healthy lifestyle. Science says nutrient-dense foods make you feel great and may even reduce your risk of certain chronic health conditions while providing multiple health benefits.
You've most likely heard the term "superfoods" to describe foods that will supposedly make you look great, feel great and help you live a longer, healthier life — but what are "superfoods," and what makes them so super?
The term "superfood" is a fairly new term referring to foods that offer maximum nutritional benefits for minimal calories. No standard criteria or legal definitions currently classify any food as a superfood.
Whether you're busy juggling work, family responsibilities, and social obligations or just trying to stay in shape, Enveed superfood makes it easy to get all the nutrients your body needs every single day. However, most superfoods are plant-based. You may look at our Enveed superfoods to see what about them packs that extra nutrient punch and how you should incorporate them into your everyday diet.
What Are Superfoods?
Superfoods are foods that have a very high nutritional density. This means that they provide a substantial amount of nutrients and very few calories. They contain a high volume of minerals, vitamins, and antioxidants.
Antioxidants are natural molecules that occur in certain foods. They help neutralize free radicals in our bodies. Free radicals are natural byproducts of energy production that can wreak havoc on the body.
Antioxidant molecules decrease or reverse the effects of free radicals that have close links with the following health problems:
Heart disease

Cancer

Stroke

Respiratory diseases

Immune deficiency
Superfoods are not cure-all foods. Dietitian Penny Kris-Etherton explains:
"A lot of people have unrealistic expectations about these foods, thinking they'll be protected from chronic diseases and health problems. They may eat one or two of these nutrient-dense foods on top of a poor diet." 
What Does It Do For Your Body?
It's no secret that food can be preventative medicine. Since you know what our superfoods offer the body, what exactly do the nutrients do? Why is it so essential to your body?
Vitamins And Minerals
These invisible components are essential to your health. Vitamins and minerals affect hundreds of different things orchestrating in your body. It boosts your immune system, repairs your bones, skin and muscles, and many other parts. Vitamins like A, C, E, D and K are essential. Plus minerals like magnesium and iron are just a few of the nutrients you need in your everyday life.
Antioxidants 
These bad boys can "prevent slow damage to cells caused by free radicals, unstable molecules that the body produces as a reaction to environmental and other pressures." Basically, it helps fight the bad stuff like pollution, inflammation, and UV rays. Many natural fruits and veggies like broccoli, blueberries, and acai are packed with antioxidants.
Phytochemicals
These nutrients are like antioxidants but have different purposes. It doesn't just prevent damage. It acts as an antioxidant but can neutralize free radicals. It can even cause cancer cells to self-destruct!
Including superfoods as part of daily nutritional intake is great but only when consuming a healthy, balanced diet overall.
Eat our " Enveed superfoods" rather than concentrate on individual foods.
Hydration
Our specially formulated blend of electrolytes in Hydration makes it a perfectly balanced hydration supplement without the use of additional fillers, artificial food colors, or sugars. Improve your performance and feel the difference with Hydration superfood.

100% of the recommended daily allowance of magnesium, zinc, and vitamin c boosts the immune system and lessens chronic inflammation. All ingredients are Non-GMO, vegan, gluten-free, and free of chemicals, fillers, or artificial stimulants. Every product is made in a GMP-compliant, eco-friendly facility.

Hydration is a comprehensive replenishment blend that aids in body healing, hydration, and replenishment. Hydration is a drink mix that is rich with ocean minerals, electrolytes, and amino acids to keep you hydrated after exercise, whereas the majority of other drink mixes are packed with sugar.

This superfood is an all-natural electrolyte drink and hydration powder that helps you get the most out of your exercises and the day-to-day grind. Use before, during, or after a workout or when you are just on the go to avoid muscle cramps and dehydration.
Active
Active is an effective pre-workout made from plants that are intended to provide long-lasting energy, full hydration, and improved performance. It is the ideal fuel for any activity! Active is the simple and natural method to keep on the go longer with five patented components, three sources of natural caffeine, critical electrolytes, and more, whereas other similar products only give up to an hour of energy. You can push past your limitations with Active and take on the day!

Green tea, Yerba mate, and green coffee beans are the three natural sources of caffeine contained in our active formula. Enhanced coconut water with potassium. Increased VO2 max due to nitric oxide boost from beets and 6 natural adaptogens. Black pepper and Himalayan pink salt are used for electrolytes and absorption, Pomegranates are antioxidants and aid in healing. Naturally sweetened is guaranteed with the great taste of raspberry and coconut. 
Daily Greens 
Daily Greens is a superfood rich in critical vitamins and antioxidants that can help improve your body's overall health. Daily Greens is a nutrient-dense organic mixed green, algae, organic raw fiber, and adaptogen blend that is intended to bring balance to your day. The potent combination also aids digestion, promotes anti-aging, aids in natural detoxification, and increases immunity.
 
Restore your vitality with a simple daily dosage of plant-based antioxidants. The PH-balancing combination of spirulina, chlorella, veggies, and greens in Daily Greens is a tasty way to improve anti-aging, increase energy and concentration, and boost immune function. 
 
Daily Greens is more than just greens; the adaptogen blend is intended to improve mood, decrease stress, and promote healthy circulation. We combine the most concentrated, bioavailable ashwagandha KSM-66 on the market with immunity-boosting reishi mushroom and circulation-supporting maca root. The ideal anti-fatigue combination to help you through your day.

Read More: How CBD Oil Can Give You a Relaxing Weekend?
Adaptogens
 A group of medicinal plants known as "adaptogens" works to balance stress and repair the body. We've selected a potent blend of the greatest adaptogens available to create a potent supplement.
A potent combination of therapeutic plants is used in adaptogens to help fight off mental, bodily, and emotional stress. Balancing hormones and improving mood brings the body into balance. Adaptogens also has potent anti-inflammatory and antioxidant qualities that help to maintain the health of your tissues and joints.
What is inside:
Mushrooms

Adaptogens

Herbs

Roots

All real ingredients from nature
Adaptogens help the body adjust to stress, reducing physical, mental, and emotional stress. Elevated cortisol levels and, eventually, adrenal exhaustion can result from ongoing stress.
Many adaptogens include antioxidant and anti-inflammatory effects that support joint and tissue health in addition to reducing stress.
Why You Should Eat It Every Single Day?
There's a lot of stuff in our current world that isn't good for your health – even if you're being proactive! Like your genetics.  Living in cities with factories that produce carcinogens (that bad cancer stuff). The danger of air quality is also influenced by the influx of wildfires that we've heard so much about this summer.
These dangers can cause cancers and chronic diseases. Chronic diseases and cancers threaten your health if you're not careful. In our short time on earth, we deserve to live a life that makes us glow. Inside and out.
Having a balanced diet is so crucial in preventative care for your body. Add our Enveed superfoods to your lifestyle to ensure that you're getting the right stuff from the right places.
Read More: Sleeping Disorders: How Can CBD Oil Help with Sleep Wellness?
Add Enveed Superfoods To Your Day: Quick And Easy
You're busy; we get it. Work, errands, exercise, pets, and hobbies running your life? And if you have kids, that's a whole other story. And we have to eat healthily. Why does it feel like a chore?

Eating healthy food that isn't delicious is not sustainable. Let's be real – would you actually be excited to make something that didn't taste good? It makes it way too easy to opt for takeout or ramen.

As delicious and easy as takeout and ramen are, it's not going to make you healthy. To keep up with your day, it's important to feel your best so you can be your best self.

In the modern world of convenience and solutions, there are so many ways to get inspired for nutrition while doing it in as little time as possible. Enveed superfood smoothies sent to your door, Pinterest superfood hacks, and meal prepping to name a few.

Though just adding superfoods isn't the magic pill to your health, it's important to have balance. We're here to help you take control of your health again. It's so easy to fall off the healthy bandwagon. That's why we created Enveed superfoods. We want to make it easy for you.
Bottom Line
Whether you're looking to improve your overall health and well-being or simply want an extra dose of energy to power through your day,
Enveed
 Superfood is a perfect choice. So why not start adding it to your daily routine today? You won't regret it!
Enveed superfood products help you adapt to a natural lifestyle.
We know everything about our superfoods, from seed to packaging, and are involved every step of the way.
For questions and inquiries, please contact us at
support@enveedsuperfoods.com
  or contact our customer service at
(858) 352-6700.